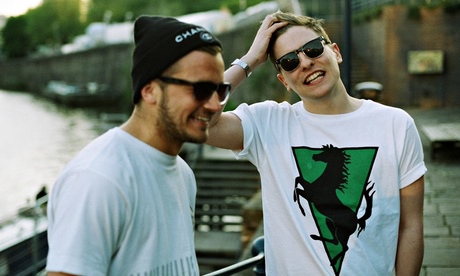 Surely there is a lot of room today for an artist to bring house and deep house together with popular music. Groups like Disclosure have shown that people are very willing to accept the deeper side of life. This artist Gorgon City seems to be on the edge of becoming one of the next big acts in the mainstream dance world. Gorgon City will be performing at Electric Zoo on September 29th, so be sure to check them out if you're looking for a hot new artist. Their newest single, "Unmissable" was released last month and shows off Gorgon City's clean production style and ability to work with vocals. Listen to "Unmissable" on Soundcloud:
Sirens:
Sirens will be this duo's debut album and will surely propel them into success in the next few years. Their label, Capitol Records describes the album as a "full-bodied musical journey narrated by lush synths, percussive deep bass, and addictive choruses". The fact that a dance act such as Gorgon City would be chosen by VEVO for promotion shows that these guys are really on the brink of blowing up. I feel as if these guys are fitting into a new genre I like to call "pop house".
Pre-order Sirens on iTunes and get three tracks from Gorgon City, including "Unmissable".

Sirens Tracklist:
1. Coming Home f/ Maverick Sabre
2. Ready For Your Love f/ MNEK
3. Lover Like You f/ Katy B.
4. Here For You f/ Laura Welsh
5. FTPA f/ Erik Hassle
6. Go All Night f/ Jennifer Hudson
7. Unmissable f/ Zak Able
8. Real f/ Yasmin
9. Imagination f/ Katy Menditta
10.6am f/ Tish Hyman
11. Elevate f/ Anne-Marie
12. Take It All f/ The Six
13. Hard On Me f/ Maverick Sabre
14. Try Me Out f/ Anne-Marie
15. No More f/ Liv
16. Here For You (Vevo Stripped)
17. Doing It Wrong
About Gorgon City:
Gorgon City is comprised of North London producers Matt and Kye. Their already-distinctive sound is a logical development of the duo's individual work as RackNRuin and Foamo. Gorgon City offered up a platform for the two producers to fuse the deeper sounds they've been excited by for years and now have the opportunity to explore together. Polished, powerful and party-minded, their sound very quickly caught the attention of tastemakers as disparate as; Skrillex, Zeds Dead, Disclosure, and Steve Aioki with their early explorations into this new venture. Gorgon City has been on a steady rise on both sides of the Atlantic since the release of their Crypt and Real EPs and impressive performances at this year's Coachella, SXSW, and Miami's Winter Music Conference. More recently, the duo played primetime sets at Hard Summer and Outside Lands and will perform at Electric Zoo on August 29 in New York City. Additionally, Gorgon City will embark on a 14-date North American tour this October.
https://twitter.com/GorgonCity
https://www.facebook.com/gorgoncity
http://instagram.com/gorgoncity
https://www.youtube.com/user/GorgonCityVEVO
Comments
comments