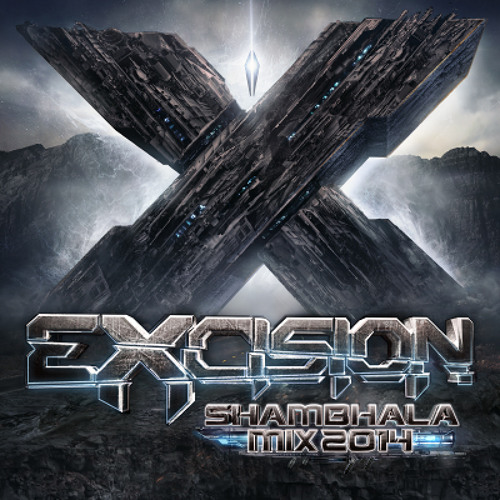 I've been a massive Excision fan since I saw him support deadmau5 at my first show in 2011. I've seen him four times since and still can't get enough. Every year Excision releases a SHAMBALA mix, inspired by the Canadian Shambala Music Festival, which took place August 21-24th. These mixes bring out the heaviest bass music in the industry. Between Excision's intense music and his collection of music from other artists, X has woven together a dubstep adventure of sorts. The mix is filled with VIPs, mix-specific edits of songs, and unreleased music.
The mix, as all the others have, starts off with a vocoded voice speaking things like "E-X-C-I-S-I-O-N" and "EXX". The mix then evolves into an unreal combination of trap, drum and bass, drumstep, and dubstep. Excision drops 80 songs throughout the mix – the tracklist is listed at the bottom of this post. Any fan of Excision or aggressive bass music shouldn't miss out on Shambala 2014.
Download the mix for free here.
Listen to the Shambala 2014 Mix on soundcloud:
Keep reading for the full tracklist:
Excision Shambhala 2014 Tracklisting:
01. Excision & The Frim – X Up ft. Messinian
02. Zomboy – Skulll n Bones
03. The Frim – Wha Chu Gon Do
04. Collie Buddz – Come Around (Barely Alive Remix)
05. Getter – Stomp
06. iBenji – Hellraiser
07. xKore ft Messinian – End of the Line
08. Zomboy & Must Die – Survivors
09. Matrix & Futurebound – All I Know (DeadExit Remix)
10. Must Die & Crnkn – The Palmtop Tiger
11. Barely Alive – Cyber Bully (The Frim Remix)
12. Barely Alive – Spitball
13. Excision & Bassnectar – Put It Down (Crizzly Remix)
14. Foxsky – Rattlesnake
15. Dodge, Fuski, Nick Thayer – Playboy (Barely Alive Remix)
16. Excision, Downlink, Space Laces – Destroid 3 Crusaders VIP
17. Excision & Space Laces – Bounce (Antiserum & Mayhem Remix)
18. Yugen – Mean Machine (The Frim Remix)
19. Trampa – Get Wicked
20. Linz Prag – Destiny
21. Dillon Francis – Without You (Doctor P & Flux Pavilion Remix)
22. Aweminus – IJDGAF VIP
23. Skism – Experts (Prototypes Remix)
24. Excision, Downlink, Space Laces – Destroid 2 Wasteland
25. Doctor P & Adam F – The Pit ft. Method Man
26. Excision & Dion Timmer – Out Of Time ft Splitbreed
27. The Prototypes – Suffocate VIP
28. Killafoe – Creation Bomb (edit)
29. Excision & Pegboard Nerds – Bring The Madness ft Mayor Apeshit
30. Doctor P – Going Gorillas
31. Knife Party – Bonfire (Lets Be Friends Remix)
32. Breeze & Modulate, Angie Brown – So Good
33. Barely Alive – Dead Link
34. Fedde Le Grand – Where We Belong (Zomboy Remix)
35. Axonic – Toasty
36. Lets Be Friends – The Bigger Bang
37. I Am Legion – Choosing For You (Nightwatch Remix)
38. MVTH – Good Power
39. Downlink – Destroid 5 Activation (Getter Remix)
40. Foreign Beggars & Knife Party – Apex
41. Kalm Kaoz – White Rabbit (Lets Be Friends Remix)
42. Excision & Space Laces – Destroid 10 Funk Hole VIP
43. Space Laces – Digital Gangsta
44. Excision – X-Rated ft Messinian
45. Borgore – Kiss My Lips
46. Barely Alive – Welcome To The Real World feat Diamond Eyes (Ray Volpe Remix)
47. Skrillex & Kill The Noise – Recess (Flux Pavilion Remix)
48. RL Grime – Tell Me (Rudebrat Remix)
49. Twine – Feel
50. Gent & Jawns – Let Em Know
51. Yellow Claw, Grx, Cesqeaux – Psycho
52. Excision & Downlink – Rock You
53. Kill The Noise – Rockers (Bro Safari & UFO Remix)
54. Valentino Khan – Make Some Noise
55. Must Die – Feline
56. Excision, Downlink, Space Laces – Destroid 3 Crusaders (Funtcase Remix)
57. Karetus – Rave On!
58. Neoteric & Wax Motif – Go Deep (Torro Torro Remix)
59. The Frim – Bassline Skanka 2014
60. AFK – On The Floor ft Messinian (Dion Timmer Remix)
61. Skrillex – Ragga Bomb
62. Apashe – Black Gold
63. Apashe – Black Gold (Phase One & Hydraulix Remix)
64. Mayhem, Downlink, Face Of Def – Carcosa
65. Audio – Heads Up
66. The Frim – What's Happening
67. Sub Focus – Special Place
68. Qemists – No More
69. T-Phonic – All Night Long ft Katie's Ambition
70. Twine – Inner Taiga
71. Midnight Tyrannosaurus – The Demon (Dack Janiels Remix)
72. Excision & Downlink – Robo Kitty
73. Minesweepa – Body Language
74. Excision, Downlink, Mark the Beast – Go Low
75. Boombox Cartel – Hardcut (Grabbitz X Handles Remix)
76. Jay Z – Paris (Danny Byrd Remix)
77. Figure – Cowabunga
78. 501 – Emotive
79. Excision & Space Laces – Bounce VIP
80. Excision & Space Laces – Destroid 11 Get Stupid
Comments
comments